Geology
The Farellon and Santa Beatriz properties are similar in lithology, structural setting, and mineralization styles. The Santa Beatriz property contains multiple steeply dipping, northeast-trending IOCG-type veins, hosted in microdiorite and andesite. The two primary, historically mined veins, located in the southeast section of the property, are up to 1.5 meters wide and remain open along strike and at depth. Similar structures in the region widen at depth, indicating potential for expanded downdip continuity of mineralization.
Seven smaller untested veins mapped at the Santa Beatriz project are up to 50 centimeters wide. Mineralization in veins includes chalcopyrite, bornite, and magnetite with abundant copper oxides (malachite and chrysocolla)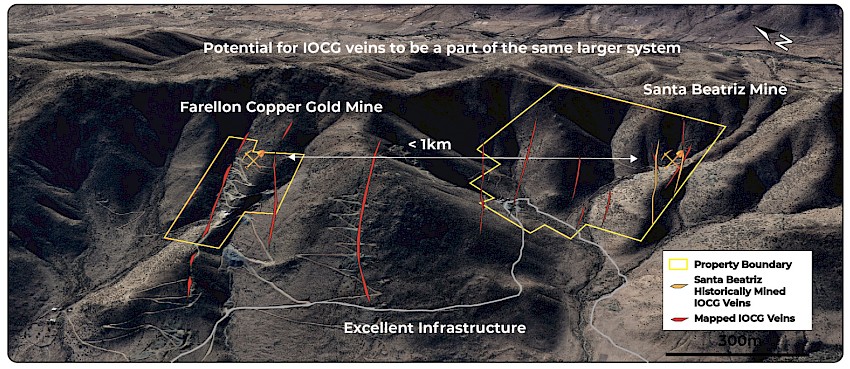 Estimation of quantity and grade is conceptual in nature with insufficient work completed to define a mineral resource. A decision to conduct exploration or development at the Santa Beatriz and Farellon sites are not based on a feasibility study of mineral reserves demonstrating positive economic and technical viability therefore resulting in increased uncertainty and risk. Further exploration may or may not define a resource at Santa Beatriz or determine positive mining economics.